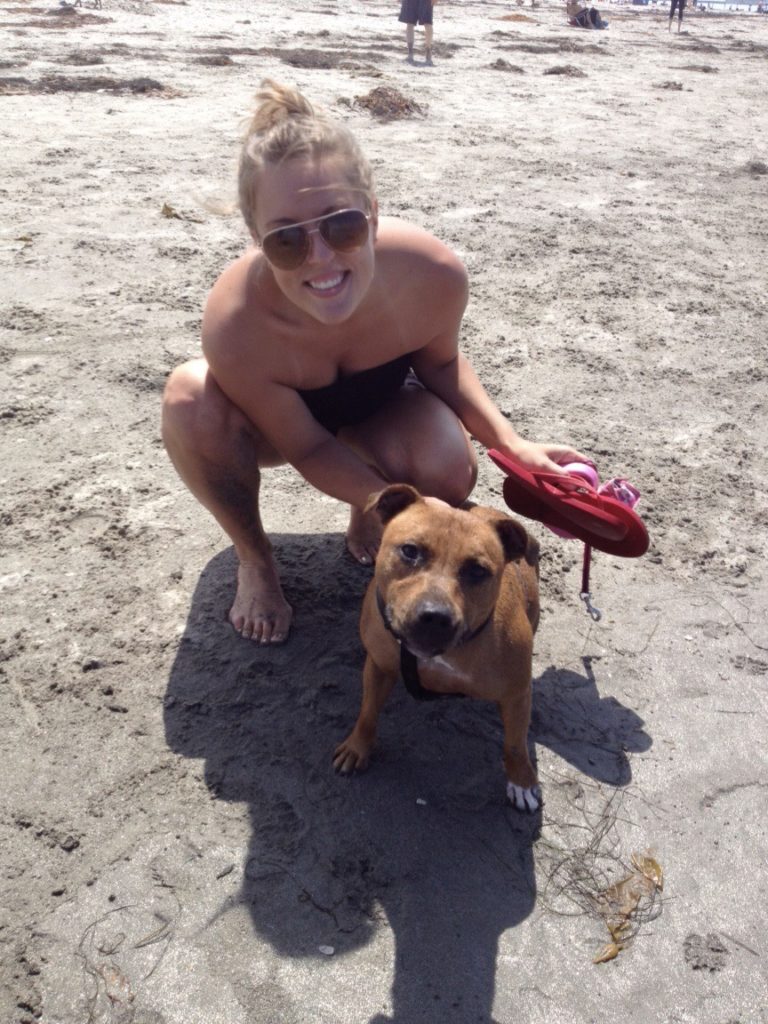 Greetings and welcome! We are happy to have you here and hope you enjoy all of our pictures and information. We take pride in everything we do at Mutts & Mates and you can see it in all of our client's faces.
About eight years ago, we had to board our dog, Diamond, a Staffordshire Bull Terrier, at a kennel here in Bonita.  It looked great from the outside and with their friendly little logo on the door and mostly great reviews on yelp, we figured it was perfect for our baby.  When we dropped her off, I said we would pick her up on Sunday and they told me they weren't open on Sunday and I would have to wait until Monday.  Wait, what? If you have someone staffed to take care of the dogs on a Sunday, why wouldn't I be able to come get her then?  We were so confused and sad.  After talking to the receptionist a little longer, they agreed to let us pick her up on Sunday but we had to give them advance notice.  Sounds good.  So come Sunday, we were so excited to see her.  We pulled up and parked the car and my husband looked over the fence.  Diamond saw him and just started to cry.  It was the saddest thing we had ever heard, proof that she was stressed out and sad the entire time we had left her.  My heart hurt.  We wouldn't board her again for another few years.
We have been blessed to have wonderful neighbors here in Chula Vista, ones who love Diamond and have become our own dog sitters.  With that being said, we knew there would come a time when they wouldn't be able to watch her.  So, again, we were looking at kennels but this time up by Escondido, because that is where we were going to be staying the weekend. The kennel was great, they had ample space for all the dogs, their own little rooms inside and they got lots of play time.  Again, we wanted to pick up on Sunday and were told they weren't staffed on Sunday.  Since we were leaving to go back to Chula Vista though, they agreed to let us come at a specific time.  When we picked her up, she was over the top excited (which made me think they didn't get the playtime they had advertised) and as I got her in the car, I realized she was bleeding.  I went back in and asked why she was bleeding.  They said she had jumped up and ripped her dewclaw but they had tried to stop the bleeding.  We were never notified or I would have taken her to a vet when it happened.  
After this and the previous experience, I vowed to never bring her to another kennel and to start my own dog sitting business to save others the headache. We didn't want anyone else to go through the sadness we did and we did't want any other dog to be sad either. Our baby deserved better than a place that charged extra for every little thing and wouldn't be open to let us get our dog. Dog kennels in San Diego make you feel like you are held hostage to their rules and we are the exact opposite. I want you to feel like if you have a rule or a request, we will follow it.
Dog and pet sitting has become a true passion of mine. I feel very lucky to give the gift of peace of mind to all of my clients while they are away. It brings great joy to me and my family to know all of our clients are being taken care of and loved like they would be in their own home. I started dog sitting about four years ago and its the best decision I have ever made. I get to still be a stay-at-home mom and do my design work (Direction Designs) while watching and caring for your best mates. It is the best of all worlds, to say the least!