Voyage Minnesota Magazine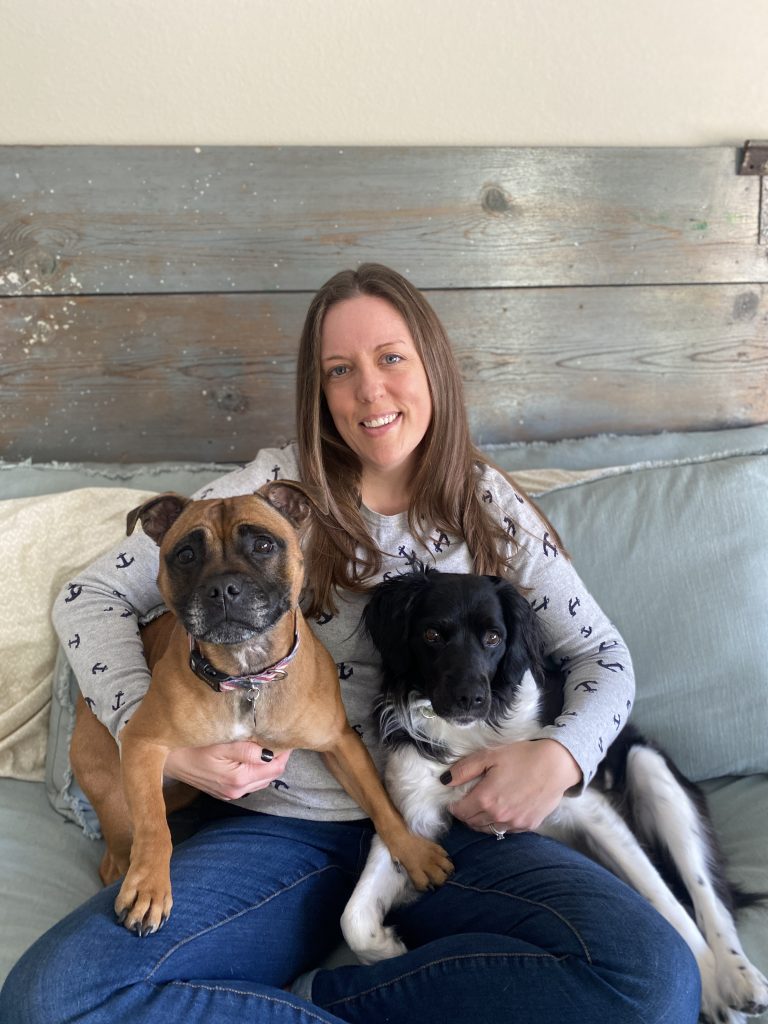 Voyage Minnesota Magazine reached out to me to talk life and business.  It was a great experience where I got to talk all things dog related and give my perspective on owning a small business here in Minnesota.
You can read the article below or click here to view it in it's entirety.
Hi Jacqueline, it's an honor to have you on the platform. Thanks for taking the time to share your story with us – to start maybe you can share some of your backstories with our readers.
I am a Minnesota native, I went to college in Duluth and a year after college I moved out to San Diego to be with my boyfriend (now husband) and ended up staying there for 13 years. In 2020 we moved back to MN to be closer to family and friends.
When we were living in San Diego, I worked at a shipyard with my husband who was a shipbuilder and Merchant Mariner (hence the name Mutts & Mates – because we will treat every dog like our first mate). In 2013 we had our first child and I decided I wanted to stay home. I loved working and still wanted to do something but I also knew I wouldn't have a traditional 9-5 job either. After having taken our dog, Diamond, to a few kennels out in San Diego I saw a need for more customized and meaningful dog boarding. Seeing this need and hearing other dog owners echo the same sentiment, I got into dog sitting by taking care of dogs in the neighborhood and from there launched a business on Rover. From there I built my own business called Mutts & Mates.
We left San Diego in 2020 and, along with it, so many wonderful dogs/owners. It feels like a piece of my heart is still there because of the deep and meaningful connections we made I keep in regular contact with my past clients and truly care how their dogs (and family) are all doing.
When we moved back to Minnesota I knew I wanted to start dog sitting again but knew it would take a little while to get settled into our new home and routine. It didn't take long though because people I knew from living here were jumping at the chance to have me watch their dogs. So, from there it quickly snowballed back into a full-blown business. It has been nothing short of amazing with the help of wonderful clients, an awesome community, and their referrals!
As my business evolves so does my knowledge of and love for all dogs. Because of this, I am educating myself further and hoping to get into the training side of things. I also want to create a line of dog accessories.
Alright, so let's dig a little deeper into the story – has it been an easy path overall and if not, what were the challenges you've had to overcome?
It hasn't always been a smooth road. The two biggest challenges for me are saying no to clients and managing all the day-to-day stuff.
When it comes to an in-home dog-sitting business, I want to take every dog that I get an inquiry about. I want to open up my home to everyone that reaches out to me, however, it isn't always the best fit. Sometimes we get clients reaching out and their need is immediate. When this happens I almost always have to say no. We want to feel like we know the dogs they know our home before coming to stay. Also, when we do a meet & greet and it isn't a good fit I have to let the owners know. I do always try to have a good referral on hand for a kennel or another dog sitter that would fit their needs and support their dog in the best way.
Another challenge is managing all the day-to-day items. It is just me so I have to book all the stays, set up meet & greets with clients, manage the accounting and clean up after all the dogs outside (and sometimes inside).
It isn't always easy but I am lucky to have an amazing husband (and business partner) who helps and loves our clients and two kids who are great with animals.
As you know, we're big fans of Mutts & Mates. For our readers who might not be as familiar what can you tell them about the brand?
Mutts & Mates is an in-home dog-sitting business with a focus on a dog's needs and creating a comfortable and relaxing environment for each dog.
We aren't like large kennels. We schedule a meet and greet to not only meet the dog and owner but evaluate the dog's behavior. We look for signs that may be an issue during their stay like aggression, emotional distress and not understanding basic commands. Dogs have never been left alone for extended periods of time and are never alone at night. Dogs get safe and ample play time, structured downtime, and relaxed meal times. We never let dogs unattended when outside and all areas are dog proofed for safety.
We believe a dog's stay at a kennel shouldn't be like a business transaction, but should be more like dropping your pet off with a family member. Where larger kennels tend to charge for every little thing (walks, treats, playtime, etc) we provide all that as part of one fee. We don't believe in charging for the most basic things a dog needs – attention, love, and dedicated care.
I am most proud of the clients we have who trust us so deeply that they refer others to us. The highest compliment one can get is a referral. We take pride in every detail during their stay and make sure each dog feels right at home.
We offer in-home dog boarding (overnight stays) doggy daycare (within 10 miles of Prior Lake), dog walking, and pet check-ins. Soon we hope to be offering new puppy consults, puppy training 101, and advanced dog training.
What has been the most important lesson you've learned along your journey?
The most important lesson I have learned along the way is that I can't please everyone and I can't be upset about the business I don't get. I have learned to focus on all the amazing clients and their trust in me and my business.
Contact Info: